Serve, Love, Give, Purify, Meditate, Realize

Do Good, Be Good, Be Kind, Be Compassionate.
Adapt, Adjust, Accomodate.
Bear Insult, Bear Injury. Highest Sadana
Inquire "Who Am I"
know thyself and be free.
Om Tat Sat. Om Tat Sat. Om Tat Sat Om.

Om Shanti Om Peace Om Shalom Om
Tashi delek!
On June 2nd, 2000 began the Sivananda Yatri to Mount Kailas, the home of Lord Siva.15 members of the Sivananda Yoga Vedanta organization from all corners of the planet met in Patan, Nepal, a district of Kathmandu. With the expert help and care of some members of Tibet Tours the Sivananda yatris embarked on an adventure that would bring all of them great blessings.
Please check back from time to time for photo updates.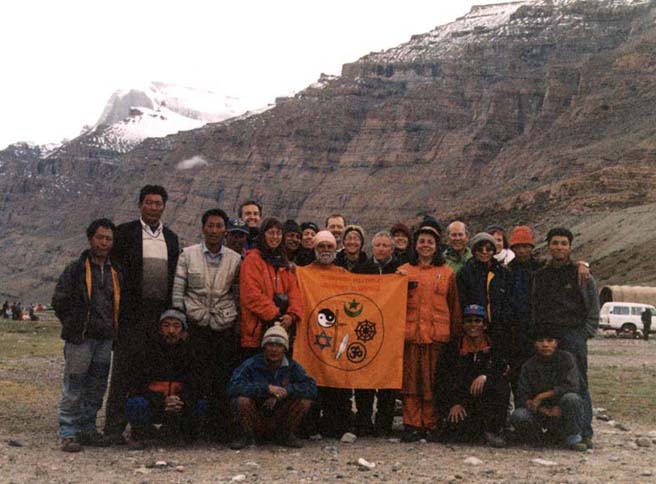 At the beginning of the parikama, we pose before Mt. Kailas.
Early morning, the air is cool and thin, Kailas is a little obscured by clouds.
Sherpas extraordinaire, expert drivers, Lobsang and Tempa, our interpretor and tour guides, Swami Saradananda, our group leader, Swami Vashistananda the Yatra's pujari and Yatris from India, Germany, France, the UK and the USA.
this site was created by Jnaneswari
send comments to jnaneswari@artmoment.com
click below for more pages with photos
| | | | | |
| --- | --- | --- | --- | --- |
| | | | | |
| KAILAS HOME | PATAN | KATHMANDU | PASHUPATI | BHAKTAPUR |
| | | | | |
| STUPAS | LHASA | GYANTSE | ROADS WEST | PARYANG |
| | | | | |
| SAGA DAWA | PARIKRAMA | TIBET FLOWERS | by Venugopala | |
[an error occurred while processing this directive]