Hindus, Buddhists, Jains and other spiritual seekers come from all corners of the planet to make the 53 km parikrama around Tibet's holiest mountain.
The parikrama took us 3 1/2 days. For many Tibetans, who call this circumambulation a kora, it takes one long day, leaving before dawn and completing the koro by midnight. The aim is to make 3 circuits around the mountain. For some, 13 is the auspicious number. The ultimate is to make 108 circuits around the mountain.

One trip around erases the sins of one lifetime. 108 is entry to nirvana.
Swami Vasishtananda, Sivananda Yoga camp pujari.
June 16- 2000—Puja before we begin the parikrama around Mt Kailas
.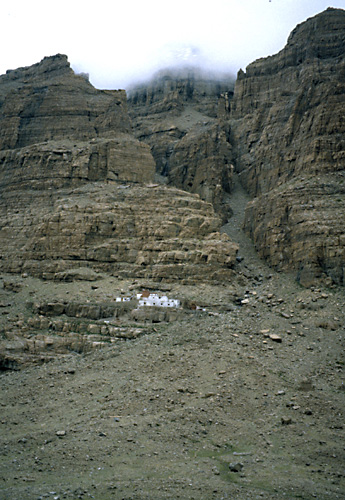 Day one of the Parikrama we pass this monastery sheltered in the hills facing Mt. Kailas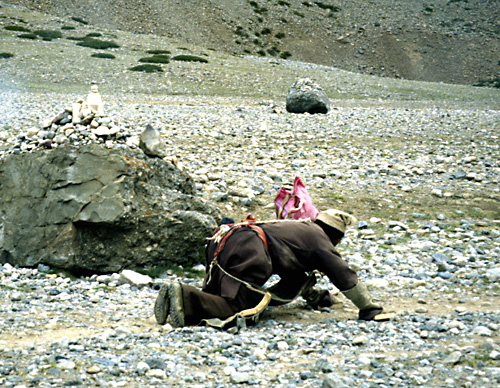 A Tibetan man makes the kora around Kailas doing a
full body prostration the entire circuit..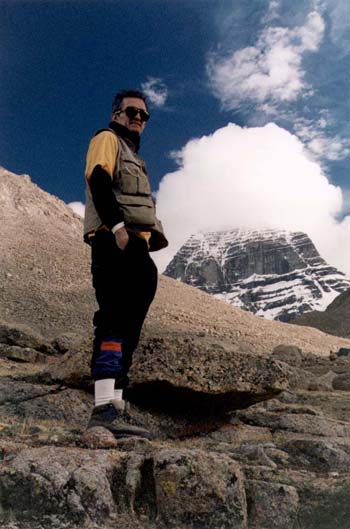 June 17 -2000—Venugopala, video man, Northface of Kailas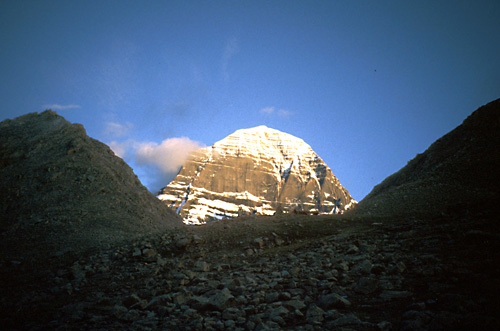 June 18-2000— northface, early morning. Mt.Kailas, the Jewel in the Lotus
"Kissing the heavens by its height...shining like the morning sun and like a fire without smoke, immeasurable and unapproachable by men of manifold sins" —Mahabharata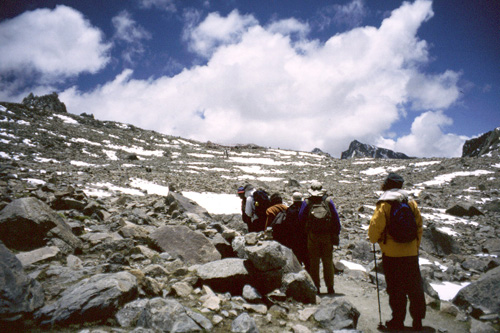 June 18 - 2000— 2nd day of Parikrama, climbing to Droma-la pass.
| | |
| --- | --- |
| | |
| Rajeshwari | Sadasiva rides the yak with the assistance of a helpful Tibetan pilgrim and Tempa, our tour guide. |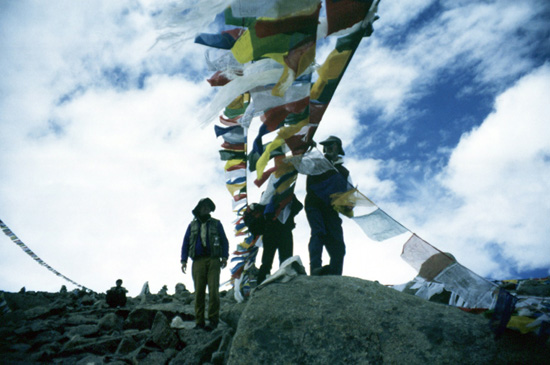 June 18-2000— Droma-la pass. 18,600' (5630m)
Venugopala (left) and Rama (right) fastening Om Namah Sivaya flags.
click below for more pages with photos
| | | | | |
| --- | --- | --- | --- | --- |
| | | | | |
| KAILAS HOME | PATAN | KATHMANDU | PASHUPATI | BHAKTAPUR |
| | | | | |
| STUPAS | LHASA | GYANTSE | ROADS WEST | PARYANG |
| | | | | |
| SAGA DAWA | PARIKRAMA | TIBET FLOWERS | by Venugopala | |