We flew into Lhasa from Kathmandu on June 6th.
From the airport met our excellent drivers and we packed into four land cruisers.
June 6- Emination on the road to Lhasa.

Emination with Venu-
The image of Buddha appeared in the rock and was then painted to bring out the image.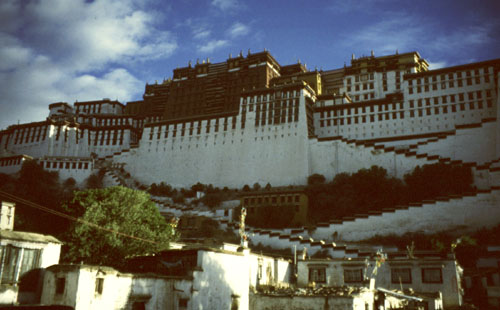 Potala- The Winter Palace and the former home of the Dalai Lama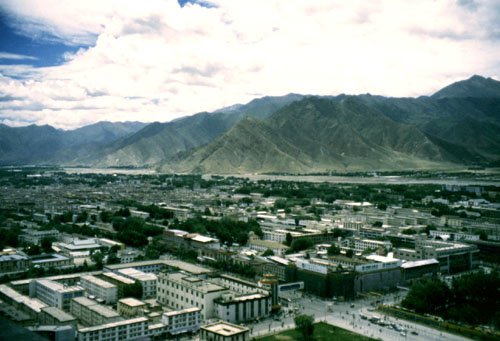 Lhasa- View from the roof of the Potala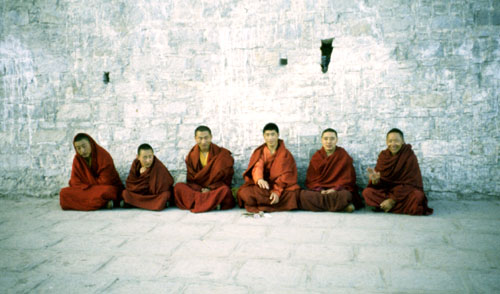 Monks chanting outside the wall of the Potala Palace.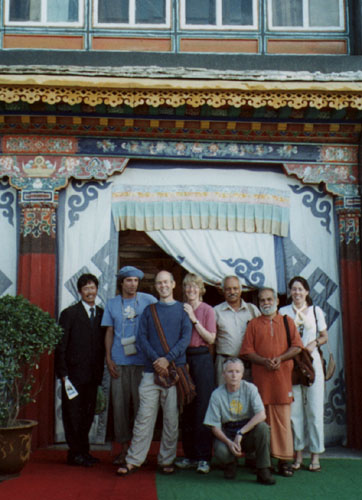 Potala Palace Hotel
(left) Tempa, Kailas, Vishwakarma, Rajeshwari, Dr. Sadasiva
(back), Jamuna (front), Swami Vasishtananda, Carol.
photo by Swami Saradananda
Tea Room, Potala Palace-
Tempa, our Tibetan tour guide and translator.

Tea Room, Potala Palace-
Venu and Carol, Yatris from New York City.
| | |
| --- | --- |
| | |
| Sera Monastery- Little Buddha | Sera Monastery - Red Doors |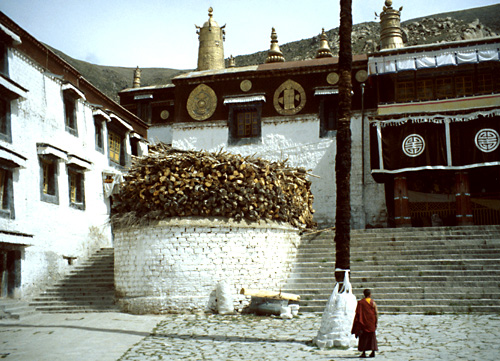 Drepung Monastery - Drepung literally means 'rice heap,' a reference to the large number of white buildings that once piled on the hillside. Drepung was once the world's largest monastery. This woodpile is a very rare commodity in this part of Tibet, as it is above the the tree line.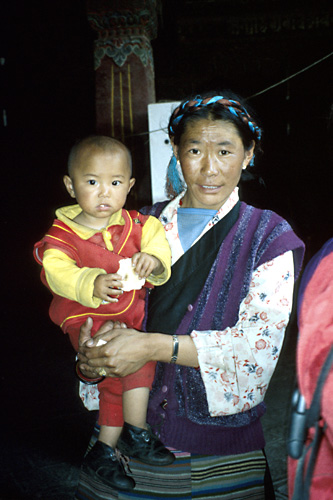 Jokhang Monastery - Mother and Child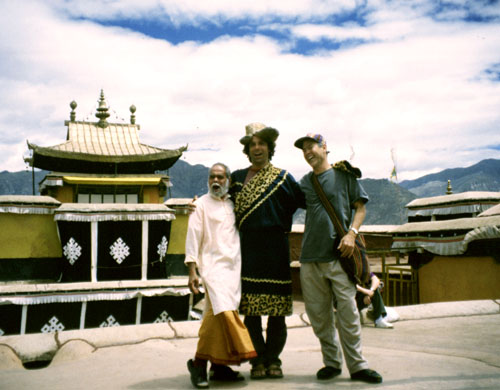 Potala roof top- Swami Vasishtananda, Kailas and Vishwakarma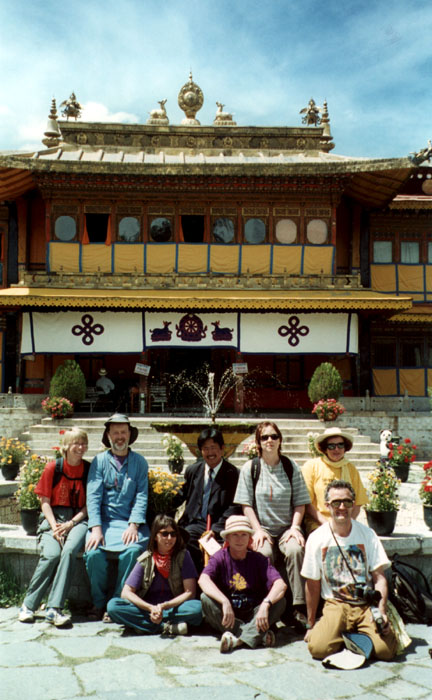 Summer Palace
The Summer Palace was built in 1954 by the current Dalai Lama
who was forced to leave Tibet in 1959.
(left) Rajeshwari, Rama, Jnaneswari, Tempa, Jamuna, Gita, Parvati, Venugopala
photo by Swami Saradananda
click below for more pages with photos
| | | | | |
| --- | --- | --- | --- | --- |
| | | | | |
| KAILAS HOME | PATAN | KATHMANDU | PASHUPATI | BHAKTAPUR |
| | | | | |
| STUPAS | LHASA | GYANTSE | ROADS WEST | PARYANG |
| | | | | |
| SAGA DAWA | PARIKRAMA | TIBET FLOWERS | by Venugopala | |